Sidebar
Mini Tire Inflator World's smallest and most portable tire inflator / air compressor
Mini Tire Inflator World's smallest and most portable tire inflator / air compressor
QUESTIONS & ANSWERS
Have a Question?
Be the first to ask a question about this.
Ask a Question
Discount Code Expire in
15:00
minutes!
Mini Tire Inflator World's smallest and most portable tire inflator / air compressor

We are a team of engineers/makers/innovators who strive to make a difference by designing car accessories with a minimalist philosophy. This time around, the world's smallest and most portable tire inflator ever.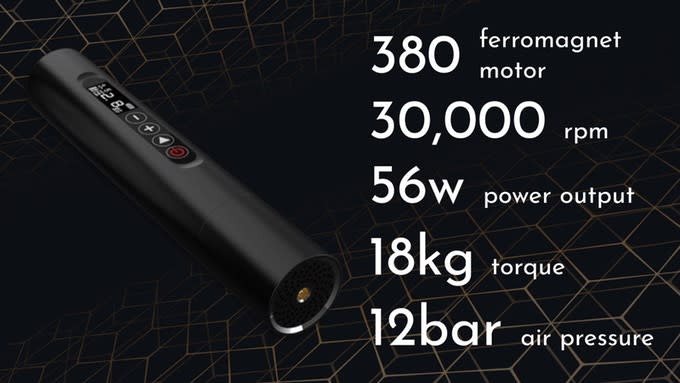 Already convinced and decided to help us bring it to life? Great. click Back This Project.
Oh what? Not quite yet? Keep scrolling then.
When you think of tire inflator, you probably think of something like these:

Why do they have to be so bulky and hideous? They simply don't fit in our modern era predominated by aesthetics that Apple products and Tesla cars embodies.
Above designs have a common flaw: a lot of wasted space. Whereas, Norshire Mini is so compact that it measures only 156mm/6in (batteryless version), 208mm/8.2in (battery version) in length and 40mm/1.6in in diameter.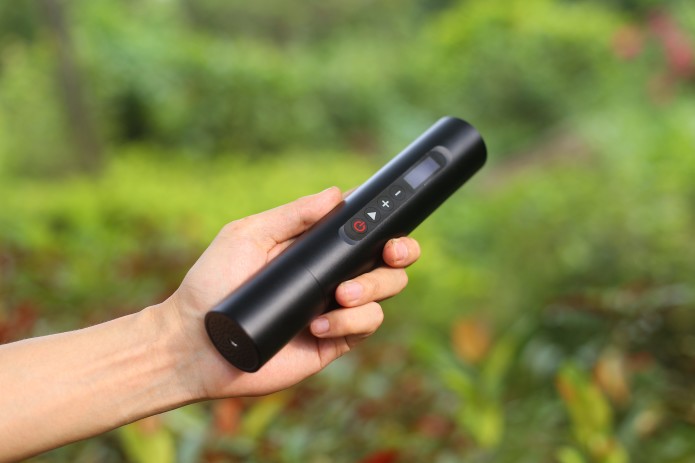 But of course, designers of those tire inflators wouldn't agree there's any space wasted in their products because those hallows are critical for their inflators to cool down. How does Norshire Mini get rid of the heat from a fast spinning motor and the compressed air?  A powerful cooling fun that ventilates 50L of air per minute and aluminum alloy air cylinder with cooling fins.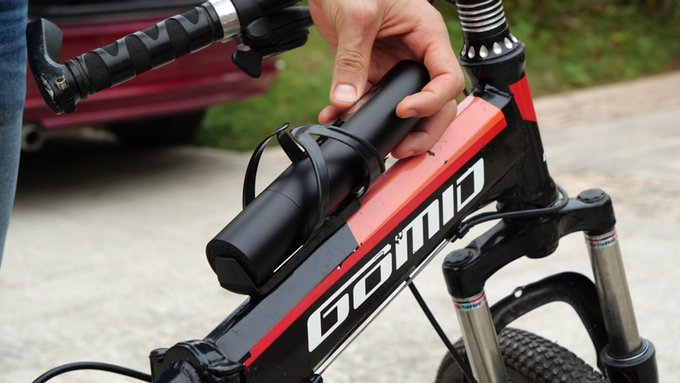 Now you can just throw your tire inflator, which is Norshire Mini of course, in the glove box, car door compartment or anywhere in the car and hit the road, or throw it in your backpack and bike away with peace of mind.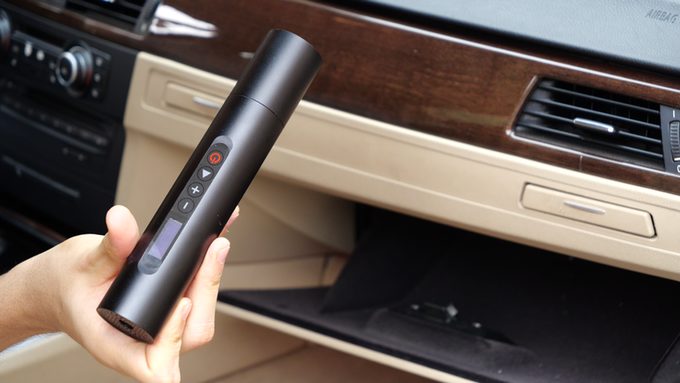 We didn't stop at making Norshire Mini compact and portable.
SLEEK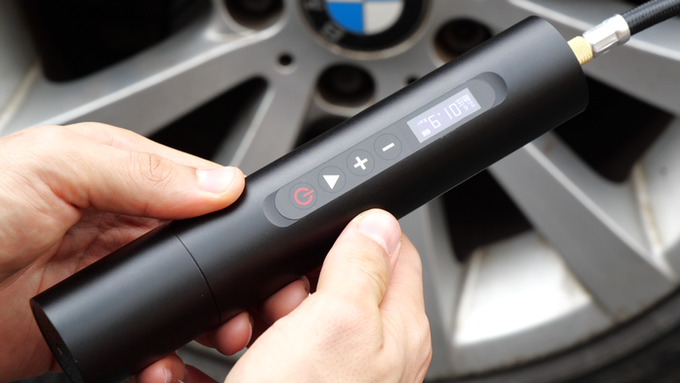 Unlike any tire inflator you've seen before, Norshire Mini is a sleek and clear shaped cylinder. It is the first tire inflator that got rid of all physical buttons and features a 0.91in, 128*32 resolution OLED display with capacitive touch.
Even when you don't need to inflate your tires, you can connect Norshire Mini to them at any time to 
gauge the tire pressure
. The screen shows your current pressure immediately when connected like the picture shows above.
SMART
The built-in microcomputer manages the whole system meticulously. 
1. It instantly measures the tire pressure when connected to a tire.
2. It automatically stops when it hits the preset tire pressure.
3. It monitors internal temperature real time and regulates the cooling fan accordingly.
4. High/low voltage alerts, over/under pressure alerts, overheating alert, built-in buzzer and flashing display with words.
The microcomputer does a great job in power management too. The stand-by power consumption is less than 1mA, so the device could sit idle for a whole year after a full charge without being over discharged.
EASY TO USE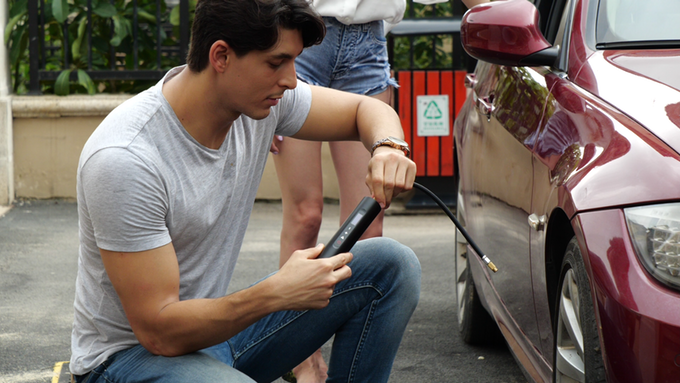 Minimalism isn't just a design language shown in the exterior design but a philosophy that sips into very corner of our professional life and very detail of our products. Norshire Mini has only 4 touch buttons, one Power key, one Start/Pause key and a pair of +/- keys to set pressure values. It's so simple that you won't even need a manual to operate it.
POWERFUL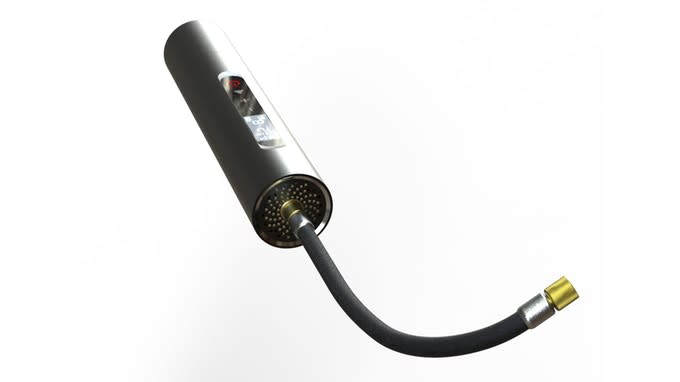 Just because Norshire Mini is small and cool, both figuratively and literally, doesn't mean it has to compromise in performance. We utilize a top notch high intensity ferromagnet 380 motor that is small in size but fast in operation, 30,000 rpm, and big in power output, 56w to be specific. The whole system produces 18kg of torque, enabling Norshire Mini to produce 12bar/1.2Mpa/174psi of air pressure and pump 10-17 Liters of air per minute.
QUIET
All the high manganese steel gears are precisely regulated to realize dynamic equilibrium, and the whole device is very tightly sealed, making it significantly quieter than a regular tire inflator.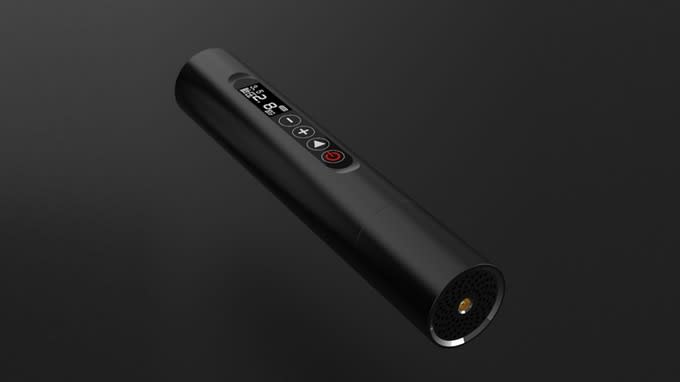 SAFE
Norshire utilizes high quality lithium iron phosphate battery, which works well under temperature from -20℃ and 75℃/-4℉ and 167℉, is significantly less prone to spontaneous ignition and explosion than other types of battery, has a life of use up to 7 years, and is environment friendly because it contains no heavy metals, rare metals or toxins.
CHARGING & POWERING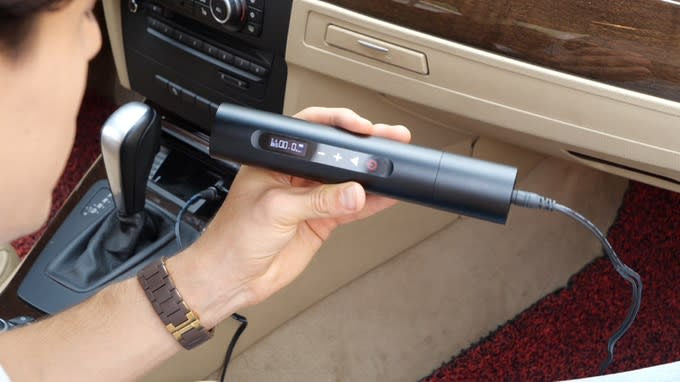 Norshire Mini can be powered and recharged, in the case of the battery version, via a cigarette lighter that comes with or a 5V/2A DC adapter like those we use to charge our cellphones. Of course 5V is not enough to power our device, but we'll include a special charging cable, as shown below, that boasts the voltage to 12V. Please note that the package doesn't include a 5V/2A DC adapter as we figured everybody has already got one, even more than one. This is to save our environment, and some cost too. We thank you for your understanding.
What are the shipping times?
We proudly offer FREE worldwide shipping via ePacket! Please note that we require 1 to 3 working days on average to fulfill your order before dispatching it. Rest-assured we are doing everything in our power to get your order to you as soon as possible! Once your order is dispatched, depending on your country or region, estimated delivery time is between 7 to 10 business days. Please consider any holidays that might impact delivery times. At AmineMarket, we celebrate the act of discovery. We work with small vendors from all over the world to share their products, some of our products are shipped directly from our vendors overseas. Due to the nature of the shipping business, delays are often inevitable, all our shipping times are therefore guidelines only and specific delivery dates are not guaranteed.
How can I check the status of my order?
After an order has been placed, it is sent as soon as possible to one of our execution centers, where your item will be shipped.
You will find below the delivery times according to your location. 
How to order ?
Simply select your items from the drop-down menu on the product page and click the "ADD TO CART" button, then follow the steps to complete your order. We will prepare it and send you a confirmation email when your package is shipped!
Which payment method do we accept?
We accept:Paypal, Visa and Mastercard credit card.
Do not hesitate to contact us if you have any questions!
Why buy from us ?
Because we pay particular attention to the choice of each of our products, which must be innovative and made of a very good quality.
Our items are always tested and approved by our service.
We are fully committed to provide our customers with the very best products and customer service.
We are passionate professionals in this field and we make every effort to make you discover our articles!
The reasons you should buy from us:
100% secure online purchase
The lowest price online
New products, advanced and innovative technologies and special sales for our valued customers
Competent and professional customer support
Thousands of satisfied customers
100% Money Back Guarantee.
All items are in stock and ready to ship when you place your order
The majority of customers who like our products come back to buy more!