"It was very motherly — she knew what to do right away"🐶❤️️😻😻😻
Stacee Jones has fostered more than 100 dogs and cats. She thought she had seen it all — until one day last month, when the group she fosters for, 
Jelly's Place
 in San Pablo, California, took in the survivors of two separate cases.
One was a nursing mother dog who had lost her puppies and had been abandoned behind a dumpster. 
Jones had just taken in the sweet rat terrier mix mama dog when the rescue called and asked if she would also foster and bottle-feed three newborn kittens who had lost their mother.
"Then they said, 'We have an idea,'" Jones told The Dodo. 
It was a long shot, and Jones would have to proceed with caution, but maybe, just maybe, the mother dog would nurse the kittens. When they arrived, Jones decided to go for it.  
"I was very careful," she said. "I sat down next to the mama dog and sat down with one kitten. I slowly showed her the kitten to see how she'd react. I was afraid maybe she'd growl or would not take [it] very well."  
Jones held her breath, ready to retreat at the slightest sign this was not a match. Instead, a miracle unfolded.
"She took to the first kitten right away. She licked him," Jones said.  
After making sure the dog seemed comfortable, Jones introduced the other two kittens.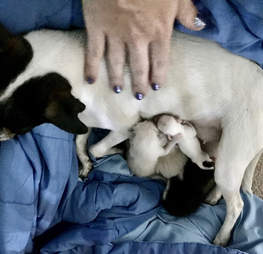 She laid right down and nuzzled them toward her," Jones said. "She let them nurse. It was very motherly. She knew what to do right away."